Kayden was recognized by Mrs. Ritthaler for his helpfulness. FES is thankful for all the students like Kayden who go above and beyond every day. #BetterTogether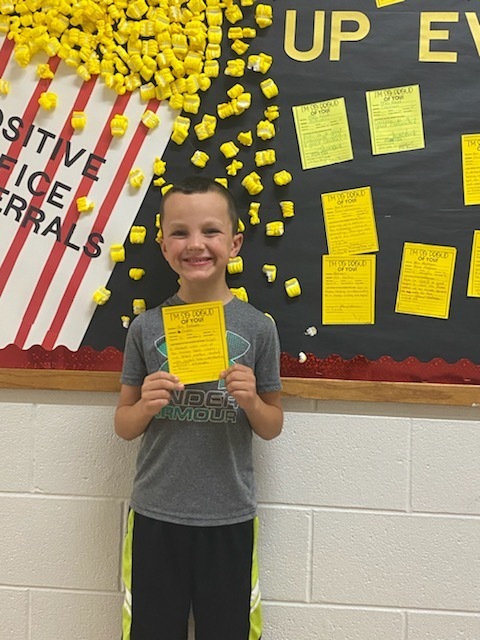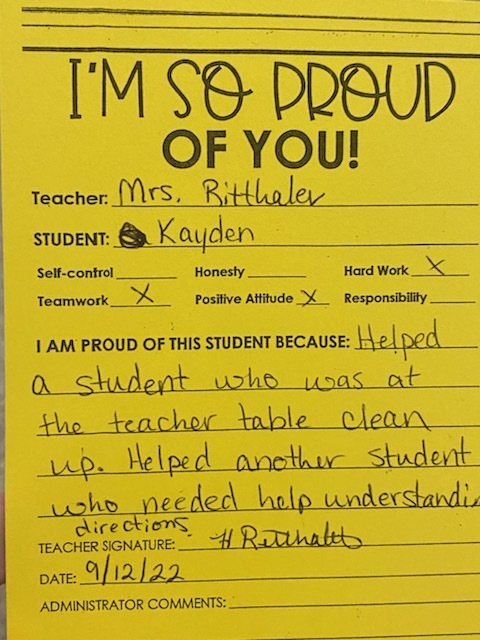 Positive, helpful students help make Frontier Elementary an outstanding school. Piper and Ethan are just a few of our student leaders who lead by example. #BetterTogether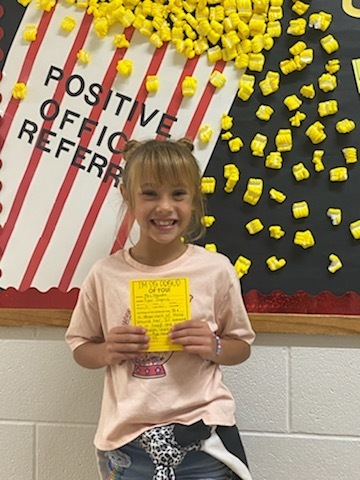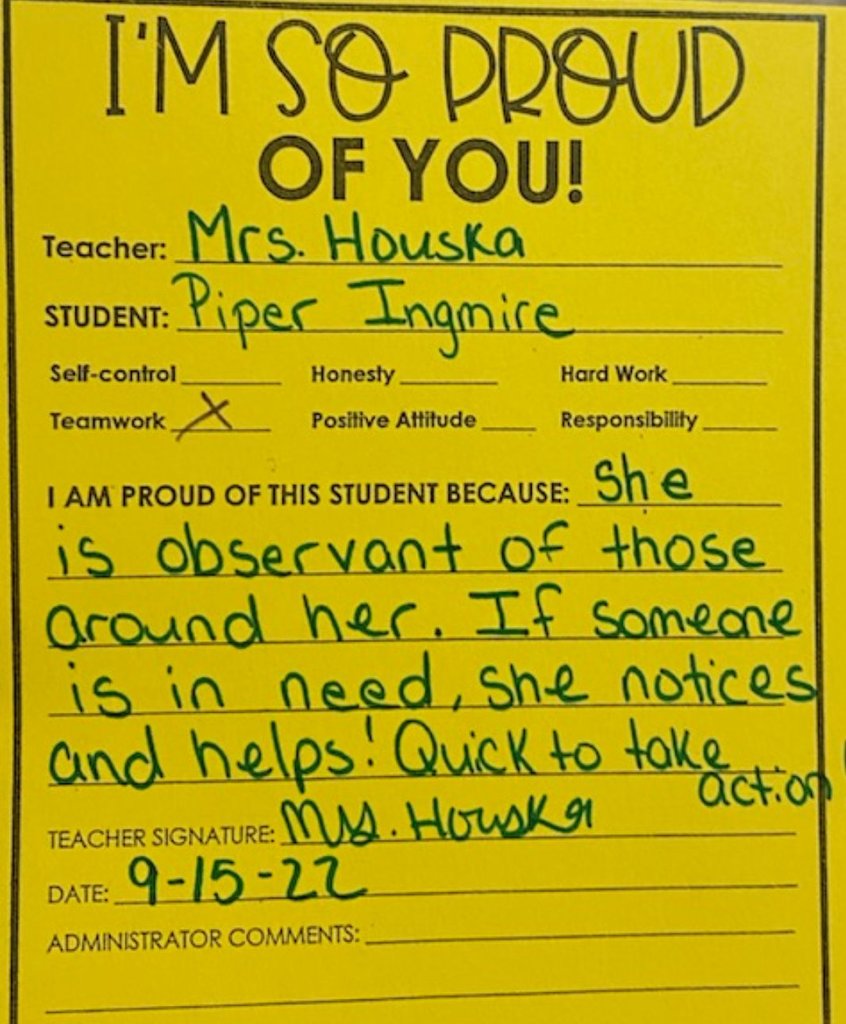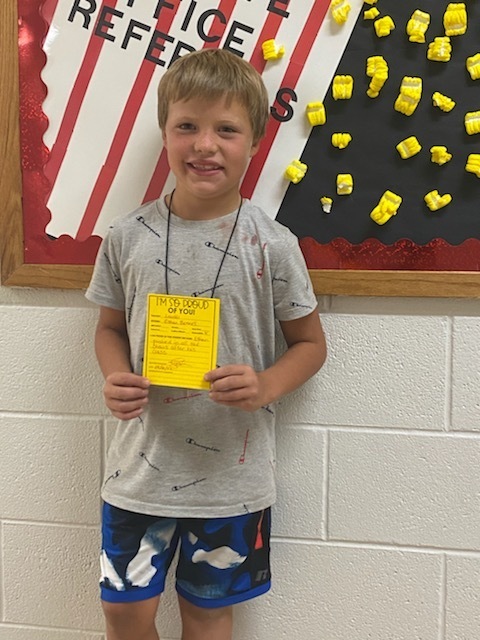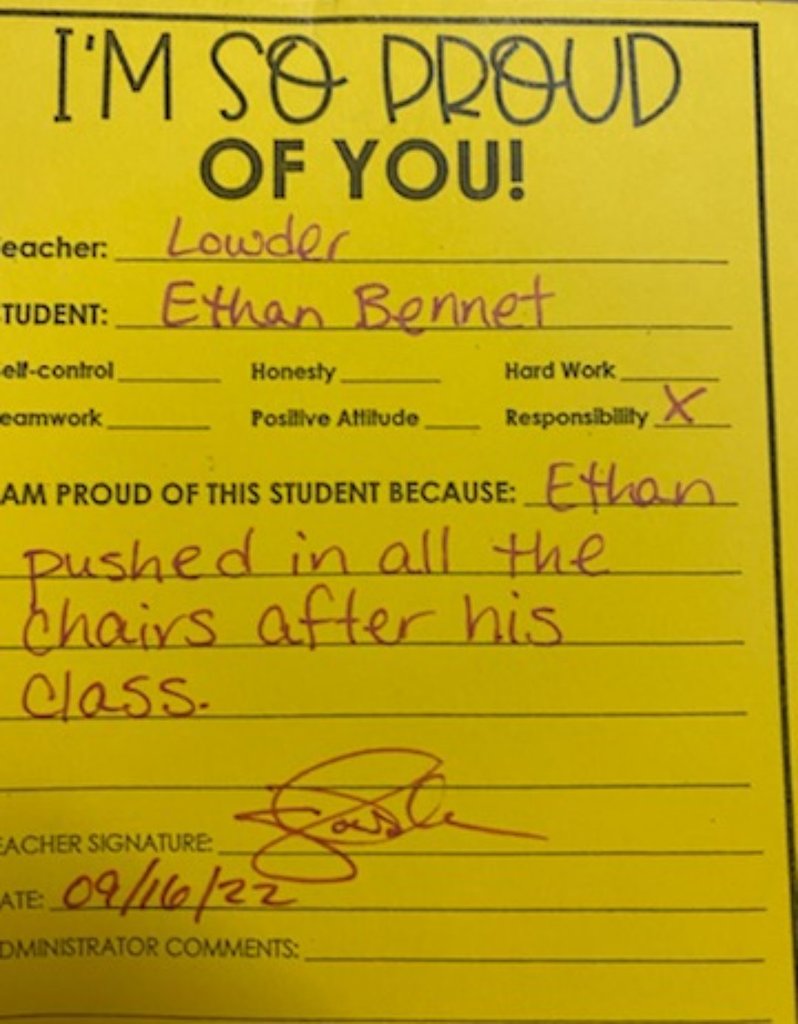 John C. Maxwell said "A leader who knows the way, goes the way and shows the way." We are so proud of the leaders at Frontier Elementary.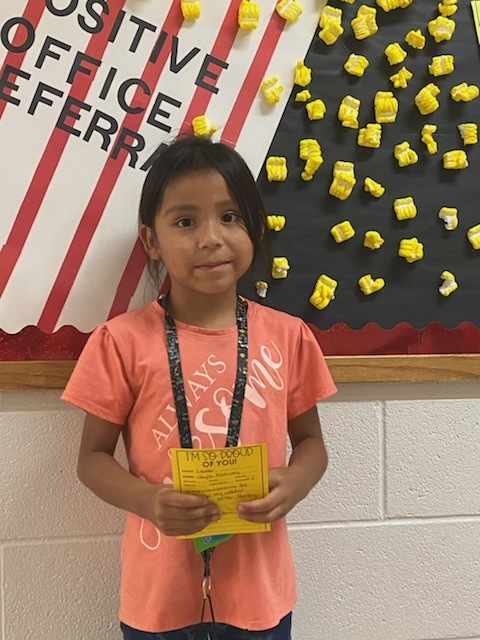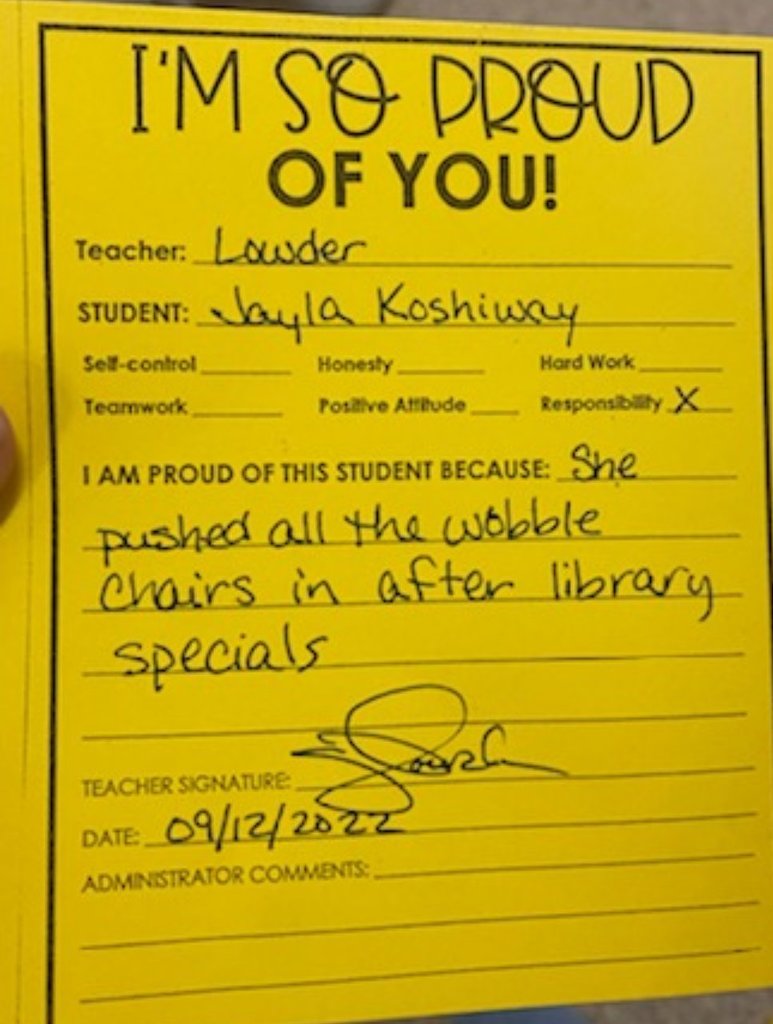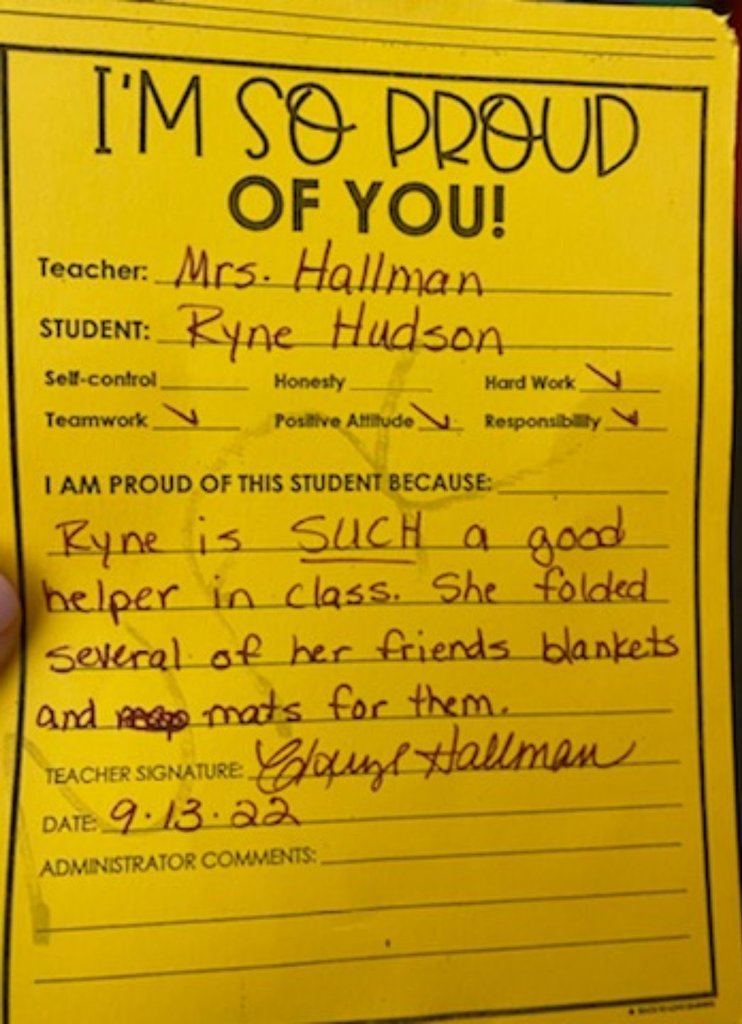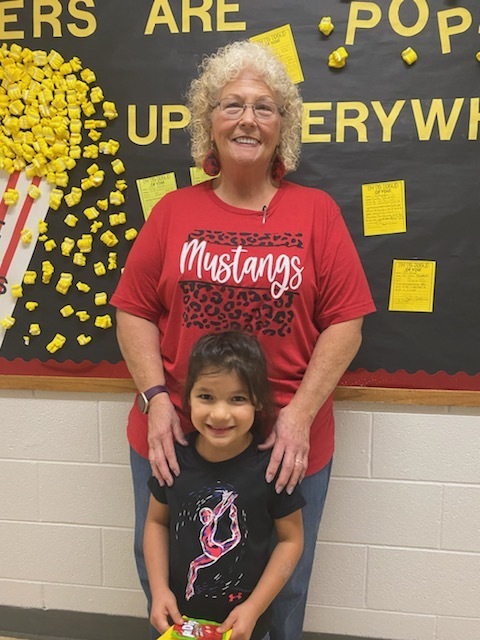 Today 7th graders participated in a Volume Lab using the displacement method using rocks and graduated cylinders. Students were very engaged and enjoyed practicing the scientific method.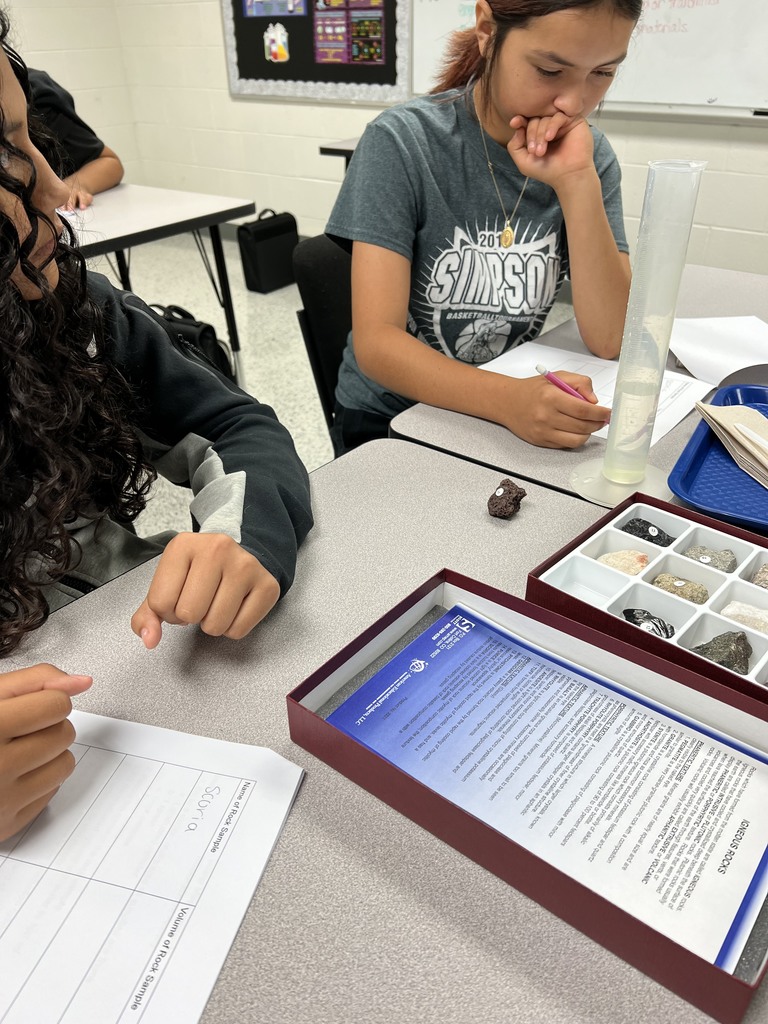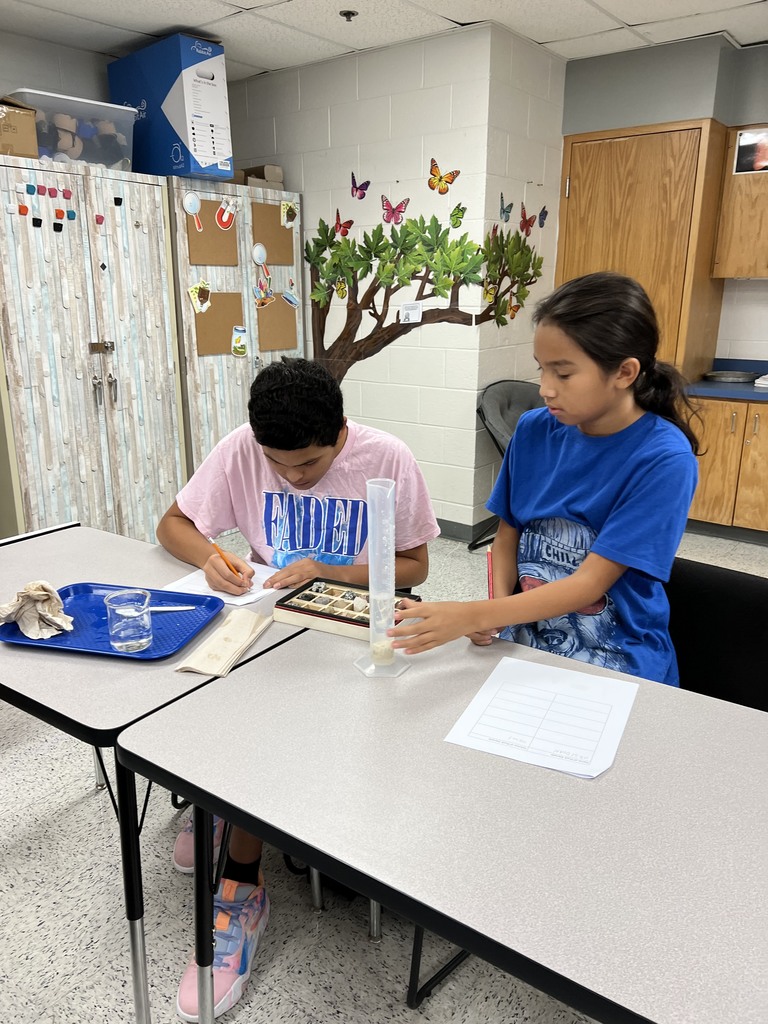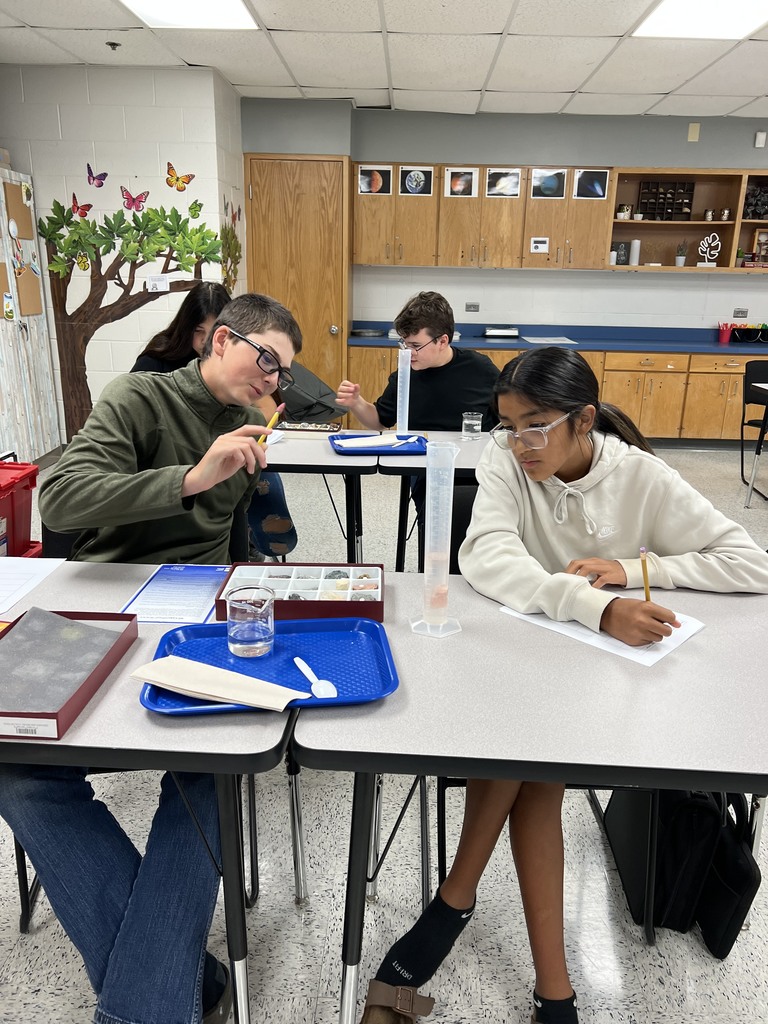 Congratulations to Frontier senior, Abbi Corbin for being selected as a Student Ambassador at CareerTech. The Pioneer Technology Center Student Ambassador Program equips high school students in leadership and stewardship in order for them to become a welcoming branch into the PTC community. Students work alongside the Student Services & Marketing teams to showcase the opportunities available at Pioneer Tech. PTC is looking to create a team of personable & outgoing students who are willing to show initiative, participate in campus events and serve in learning activities. The Frontier faculty and staff are very proud of Abbi! #Classof2023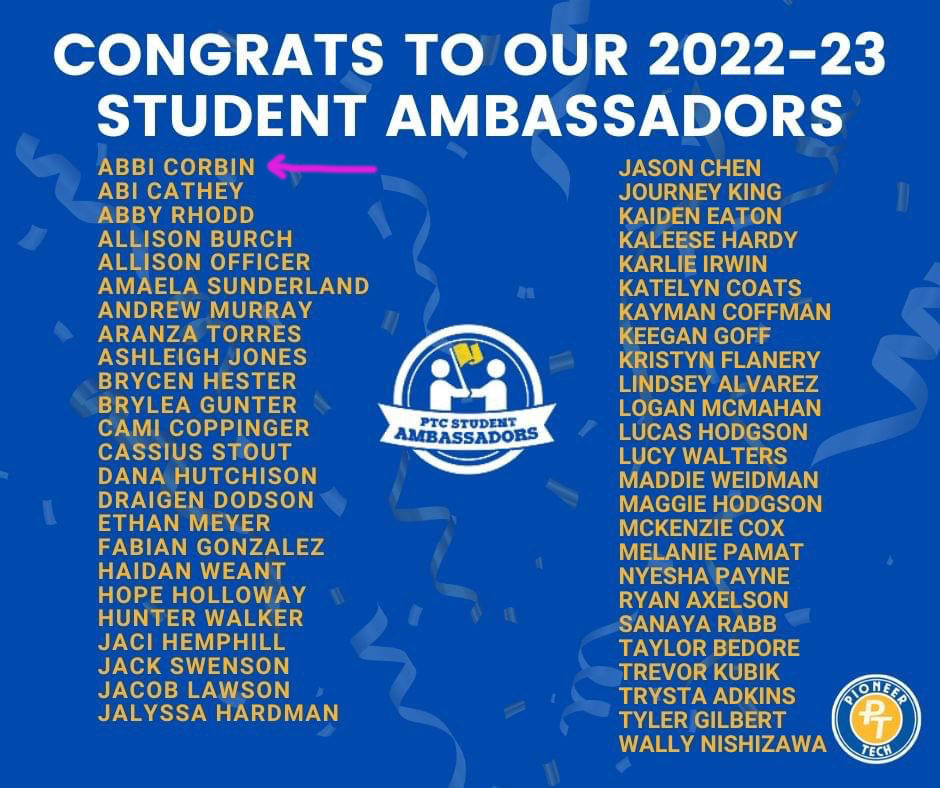 During library specials, elementary students have been practicing putting books in alphabetical order by author's last name and how to locate books in our library. They have used technology and scavenger hunts to practice their new skills.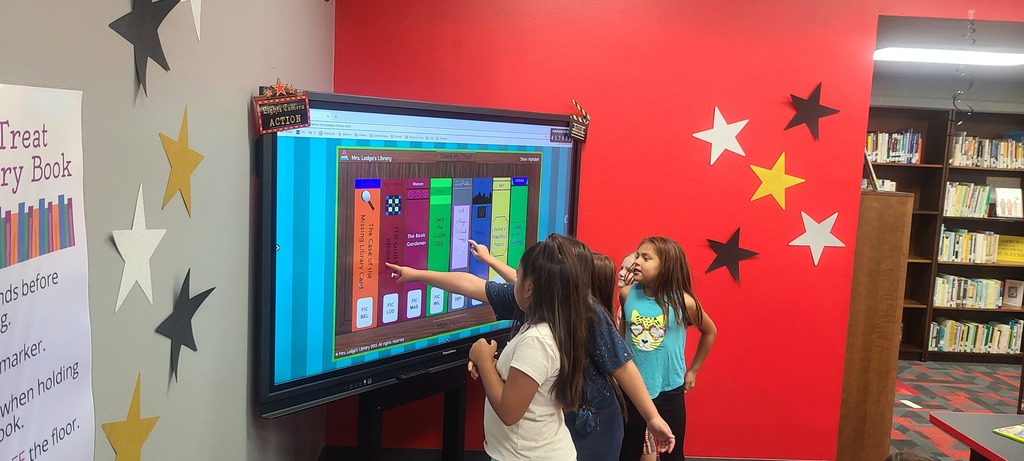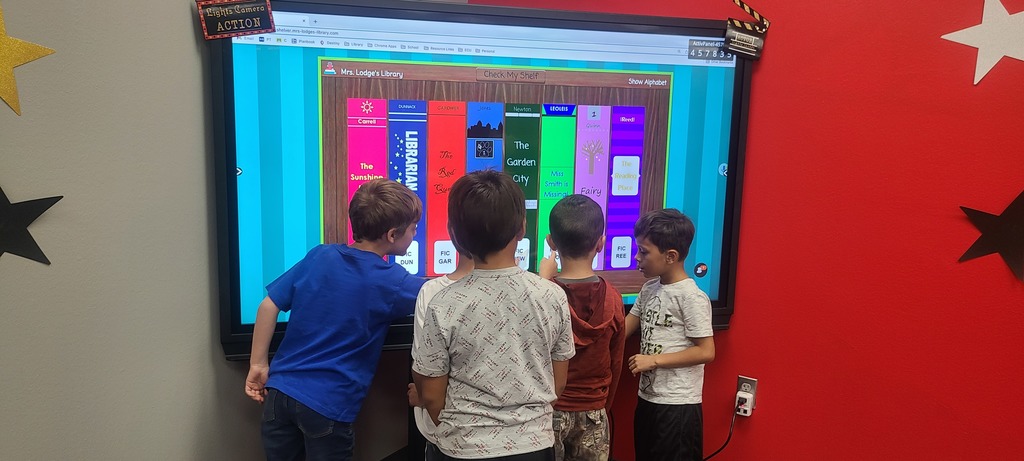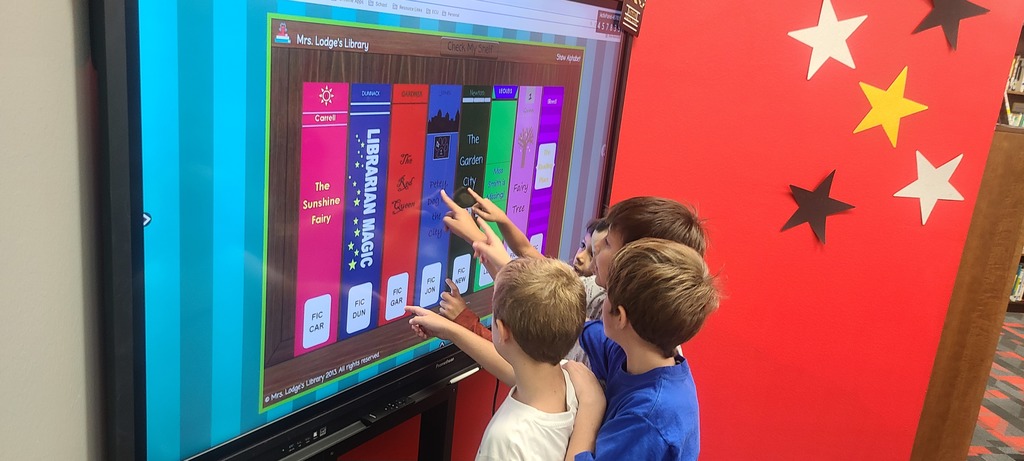 Good luck to our MS and HS Cross Country teams and Coach Collins as they compete in Ponca City today! Our HS boys team is currently ranked 16th in 2A. (HS girls will not run today due to also having a softball game today.)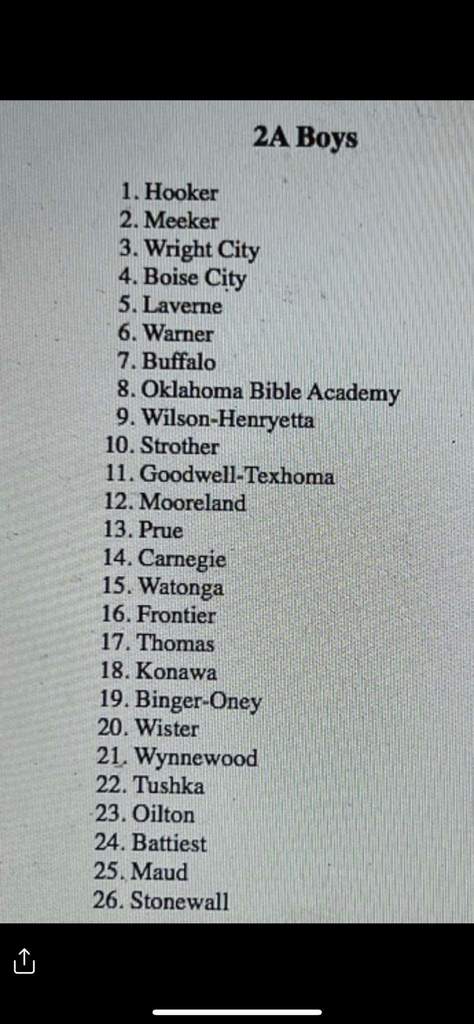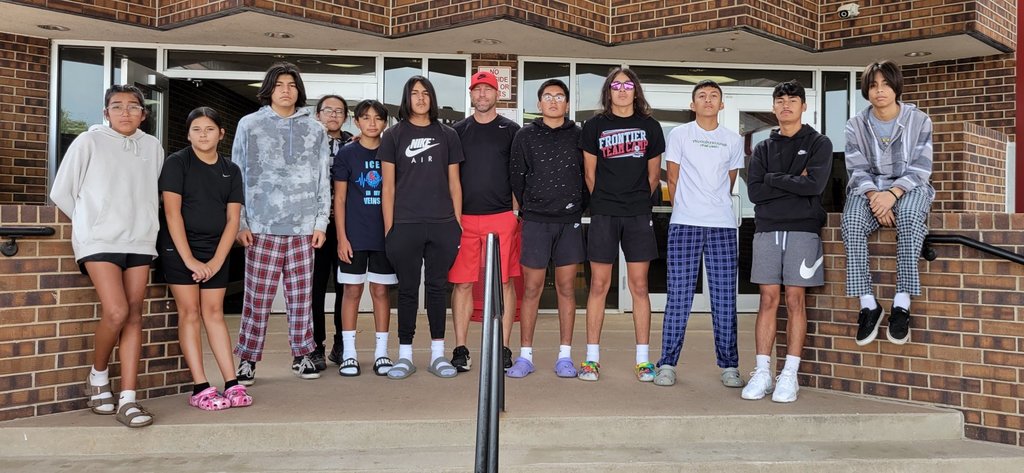 Frontier senior Brooklyn Sanders is one of our very talented art students. She utilizes her talents to spread school spirit and keep students informed about upcoming events by decorating our sandwich boards. Check out Brooklyn's most recent work which she freehanded this morning! #classof2023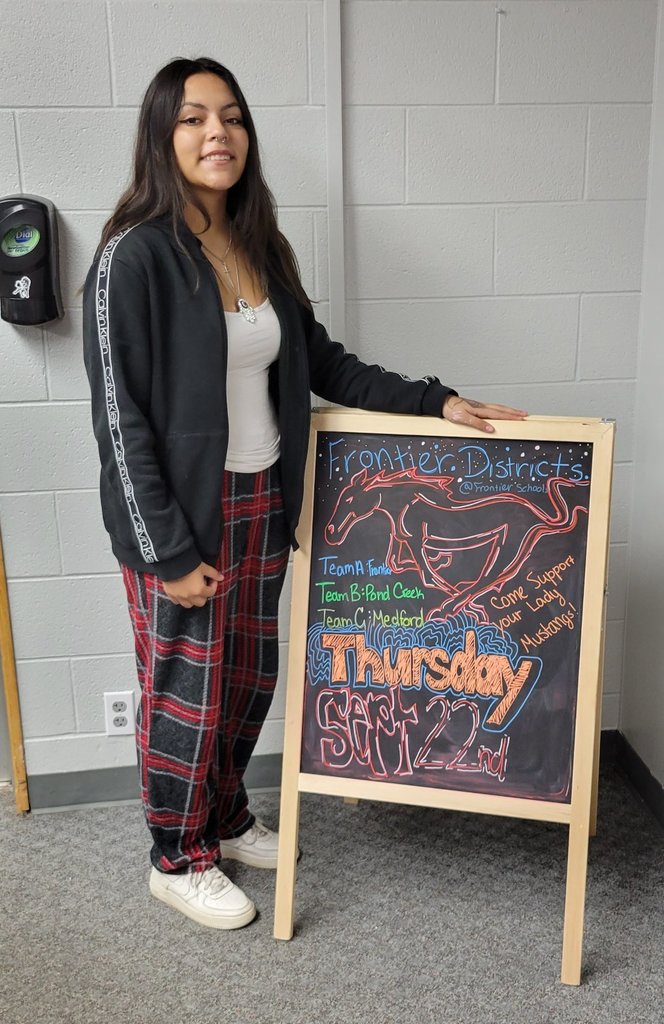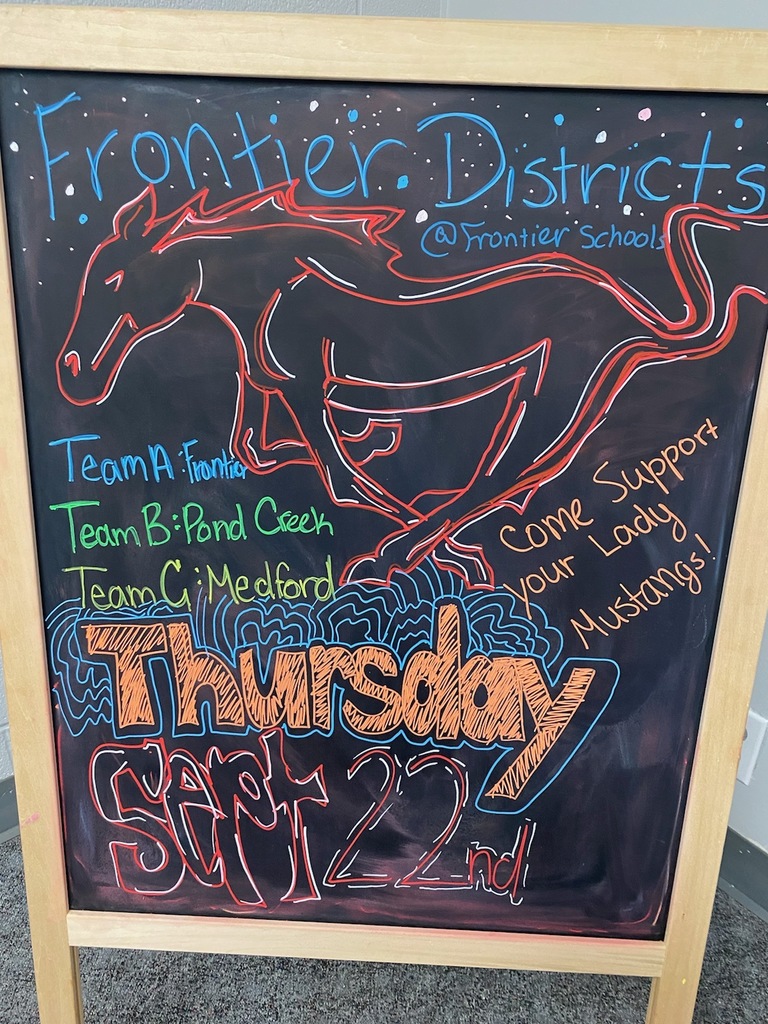 Our middle school students demonstrated what "better together" looks like by assisting younger classes in the library. They made book recommendations, showed elementary students where to find books in the library, and walked them through the checkout process. #BetterTogether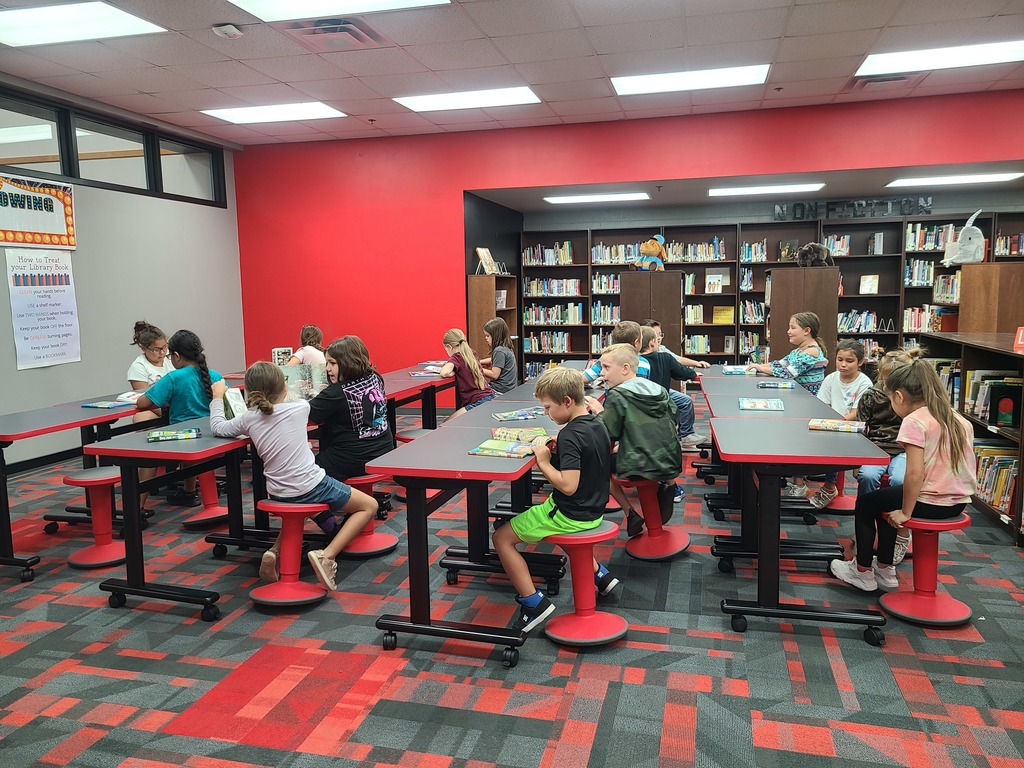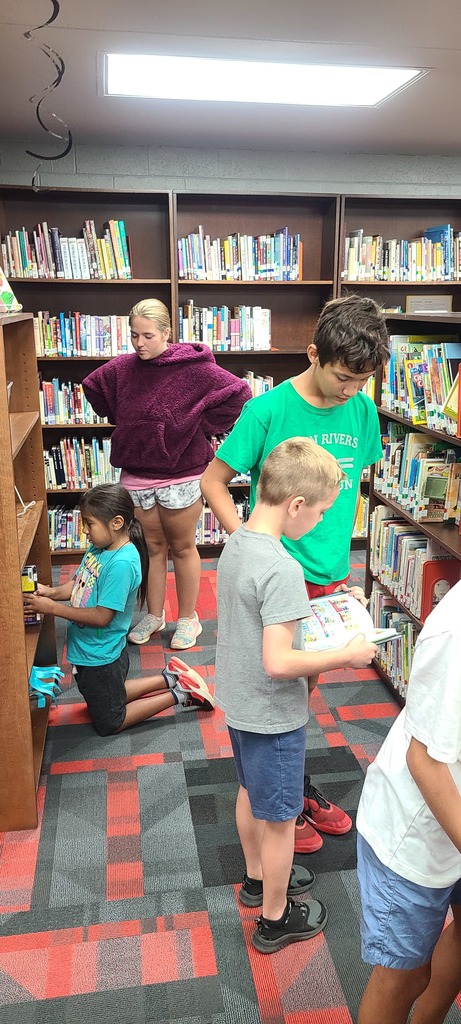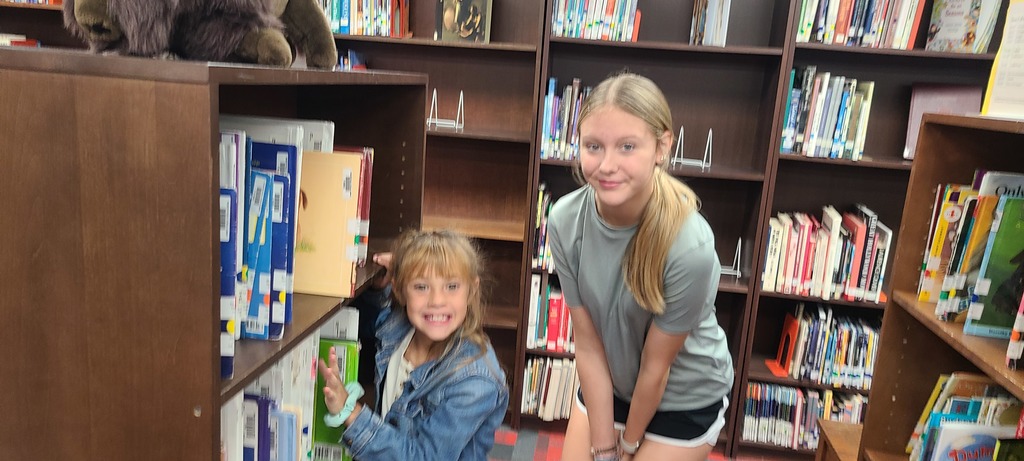 Reminder: Orange t-shirt orders are due THIS Friday, September 16th!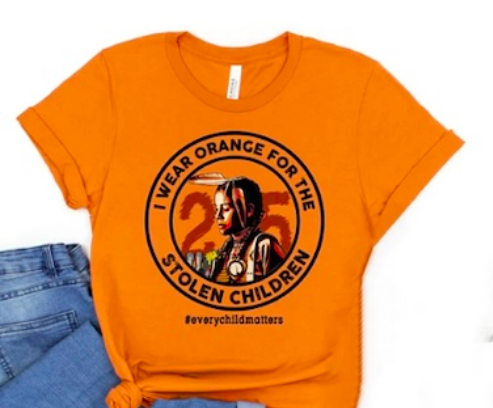 Look out! Frontier has leaders popping up everywhere! We are proud of our Mustang leaders Collin Ratliff and Tailynn Goodman.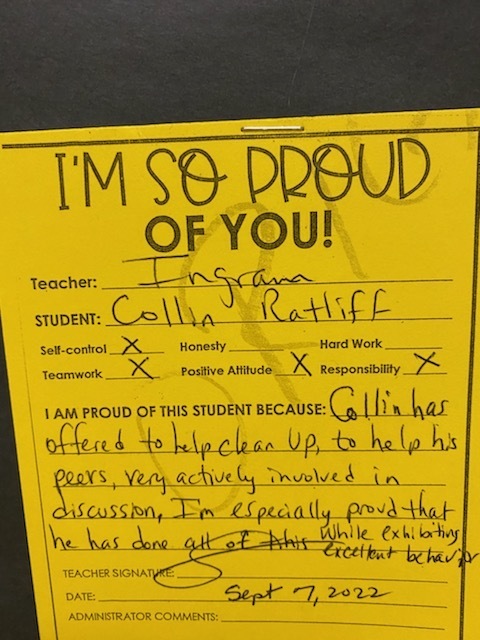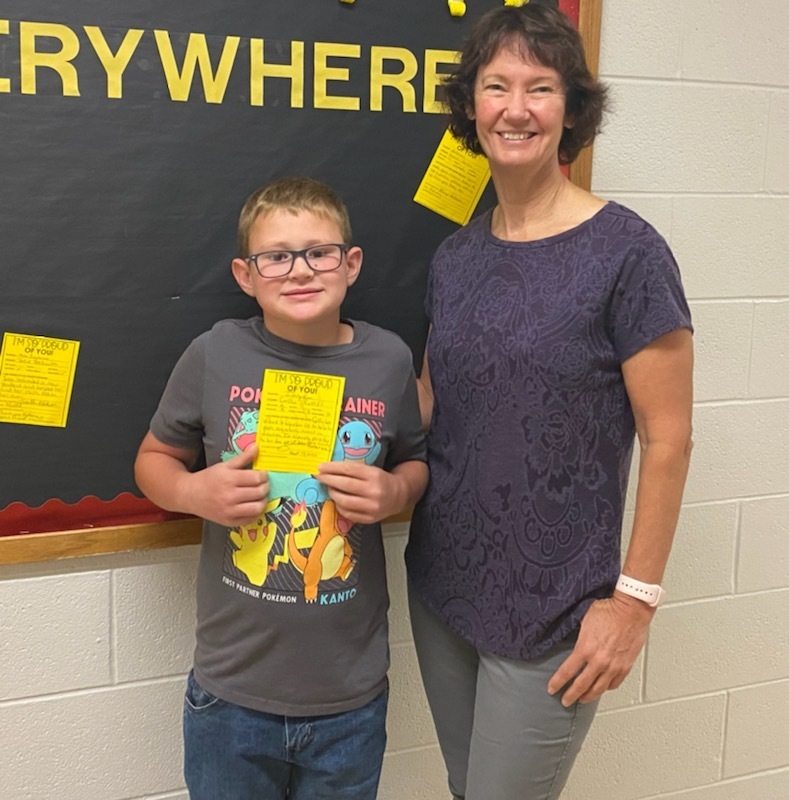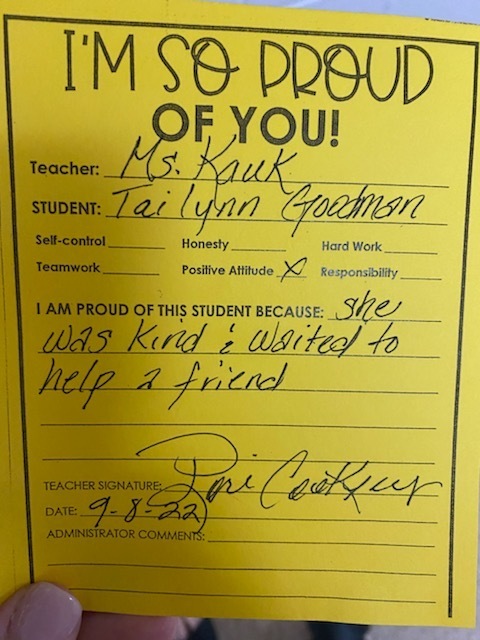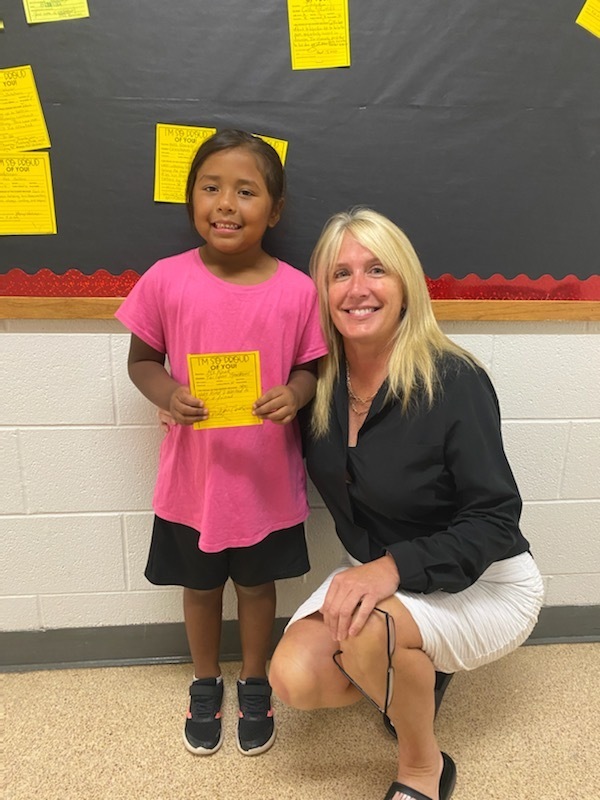 Why should students take the ACT? Check out the images for the top 5 reasons, as well as the national ACT dates and how to register. Frontier students in grades 9-12 can visit with Mrs. Golay for assistance with registering and understanding scores.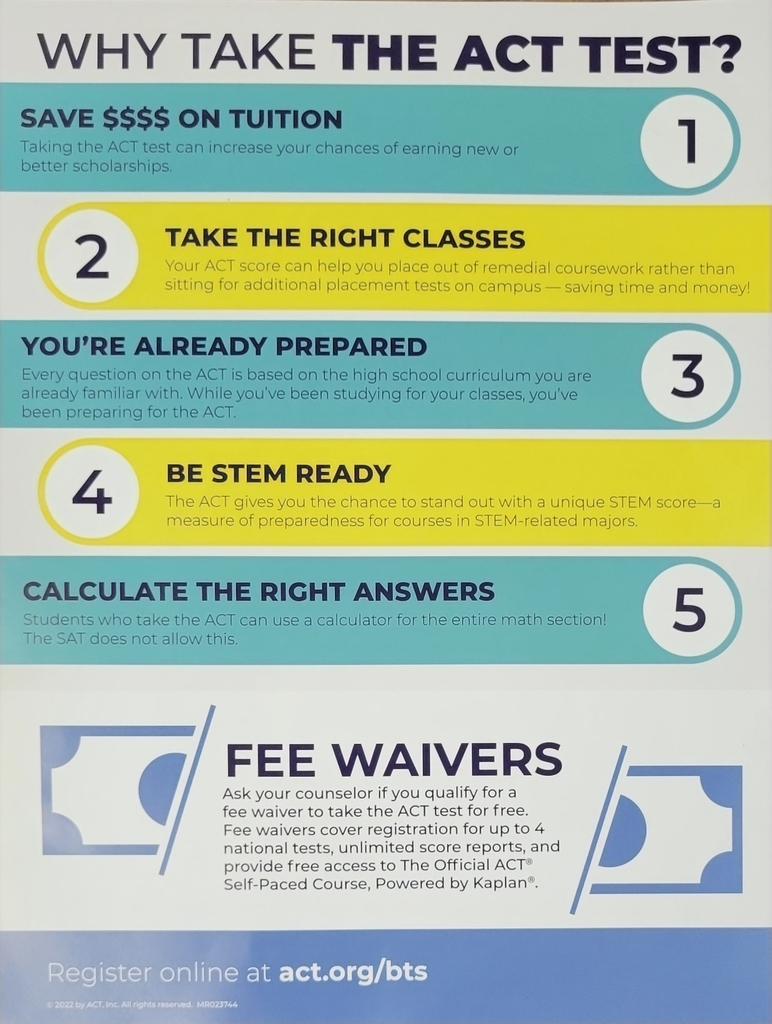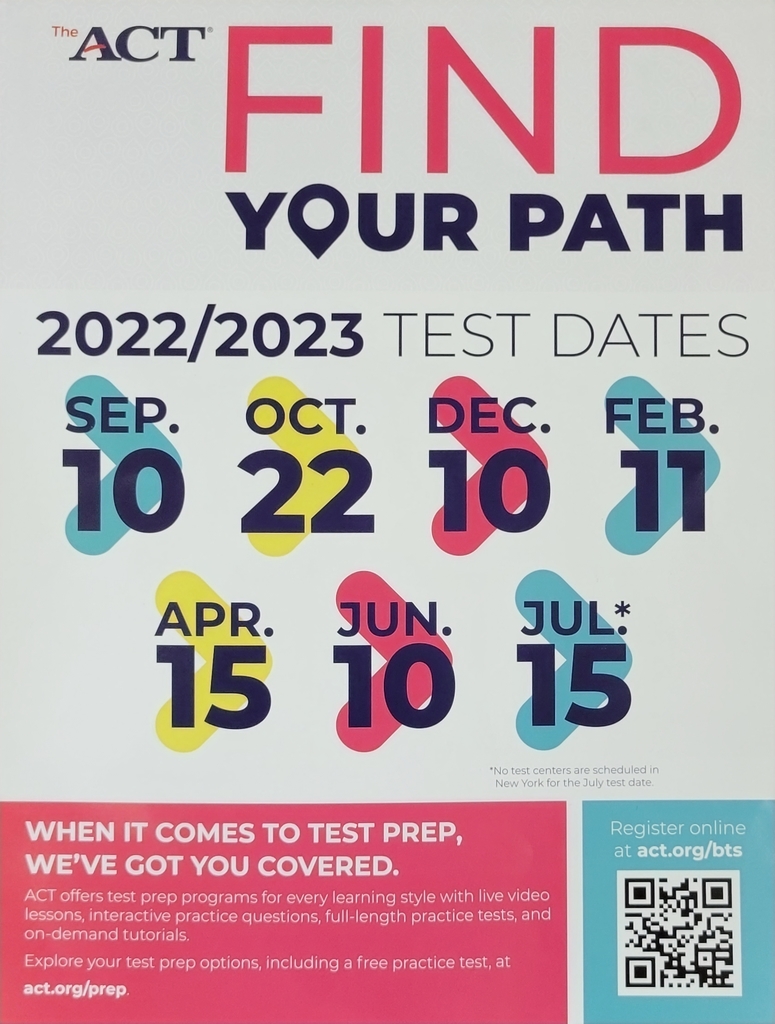 Wee Care is looking for a Substitute Teacher. Must be able to pass a background check, meet the criteria established in the OKDHS Child Care Licensing Standards, willing to increase knowledge in the early childhood field, and able to demonstrate the following qualities: self-motivation, self-direction, follow directions, make good judgments, creative, reliable, and dependable with a sincere interest in working with children. Please contact Winifred Malaska for more information:
winifred.malaska@frontierok.com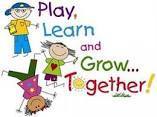 Tonight we will celebrate our senior softball and baseball players! Come on out and enjoy some Mustang baseball and Lady Mustang softball. #Classof2023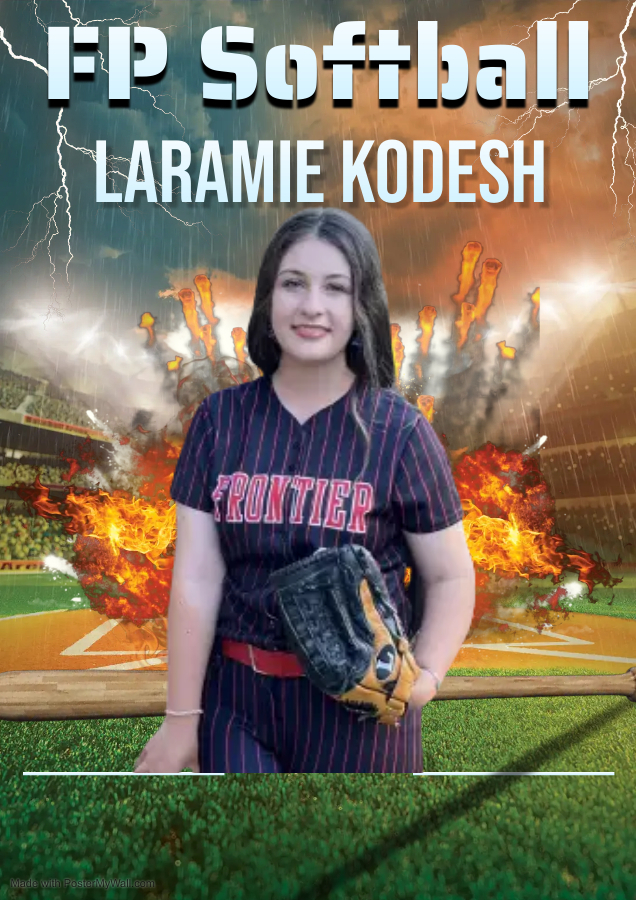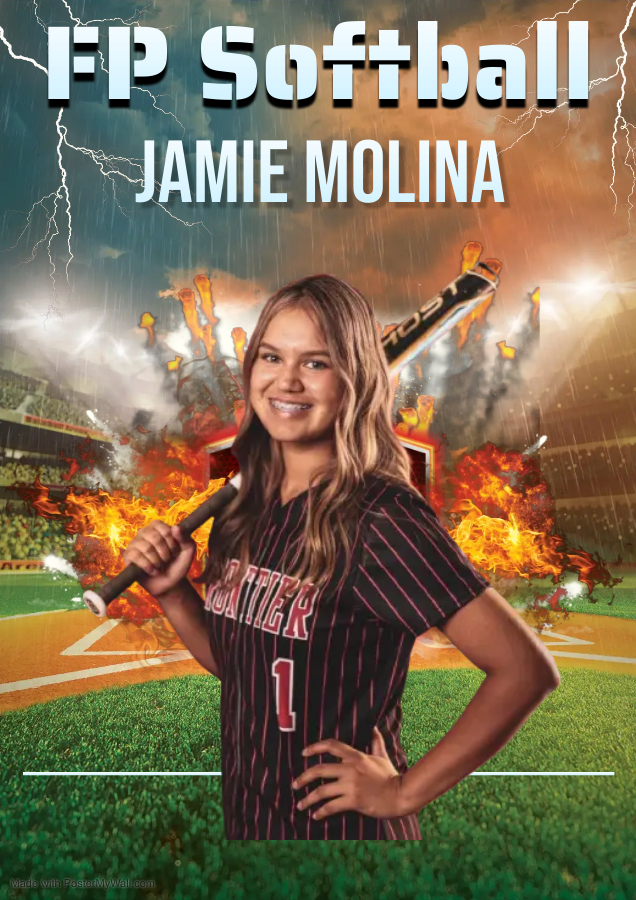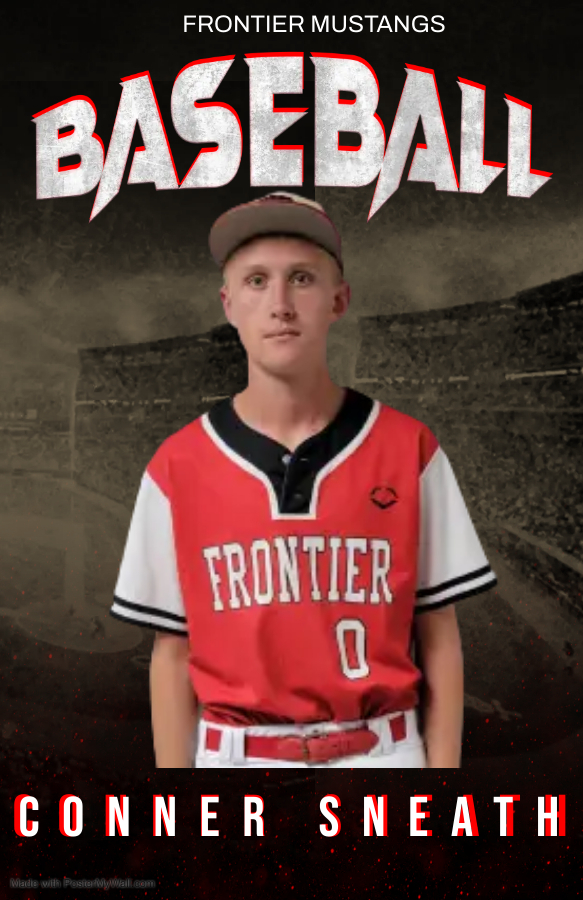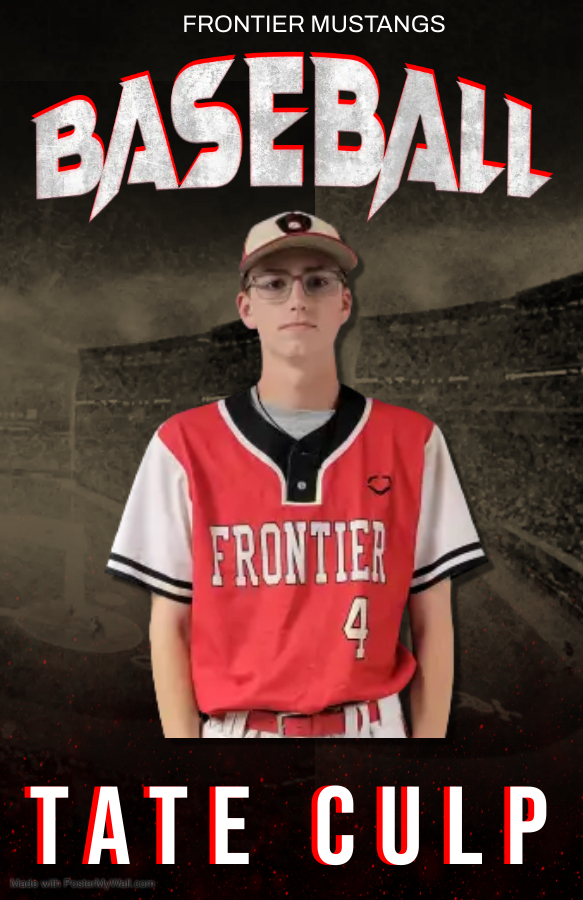 Congratulations to our August Students of the Month: Michael Bible, Bentley Prusa, Noah Farmer, Elwood Malaska, Pamela Childs, and Adriana Rigal. These hardworking students were recognized today at the monthly board of education meeting. Well done Mustangs! Keep up the good work. #BetterTogether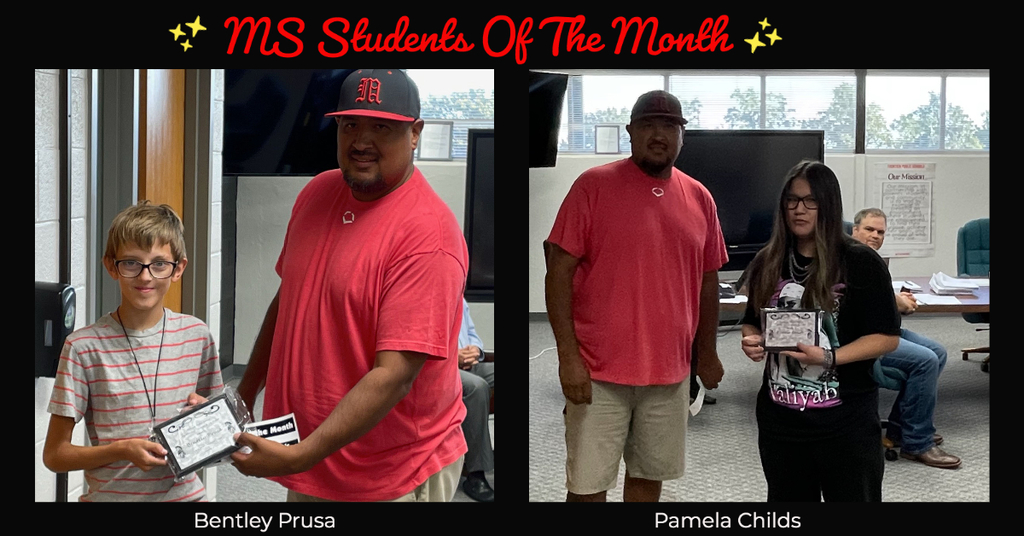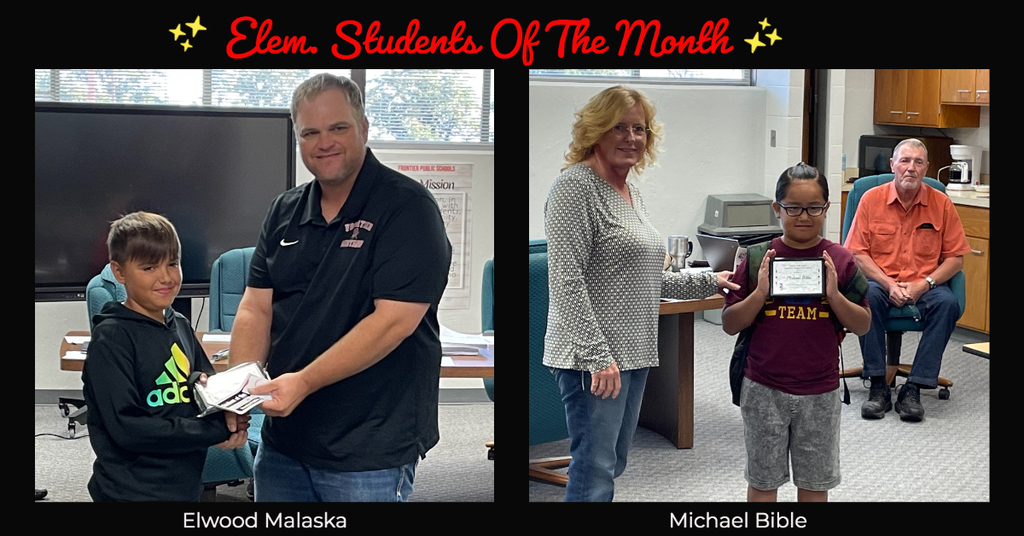 BOE Meeting 9/12/22 Handbook Policy Updates: The BOE, administrators, and staff of Frontier Public Schools are dedicated to the safety of our students and staff. To ensure the safety of our students and school the following policies have been updated and are in effect: *Parents/Guardians or an adult on the student's checkout list must check the student out IN PERSON. Notes, phone calls, or emails will no longer be sufficient. *Frontier is a closed-campus school. Students may not leave campus at lunchtime. *All tobacco-related infractions, including vapes, will result in a 5 (five) day suspension for the 1st offense.

Frontier FFA members Tate Culp, Brayden Rexford, Bryce Rexford, and Conner Sneath attended the first annual OYE Shooting Sports competition on September 6th at Silverleaf Sporting Clays in Guthrie, OK.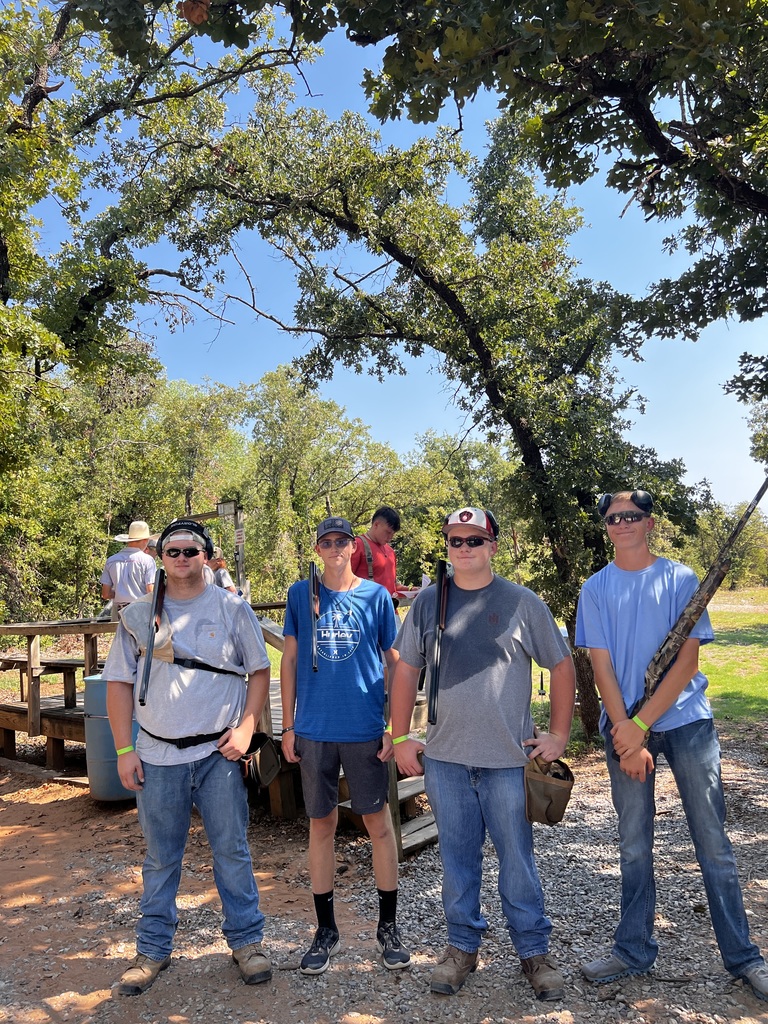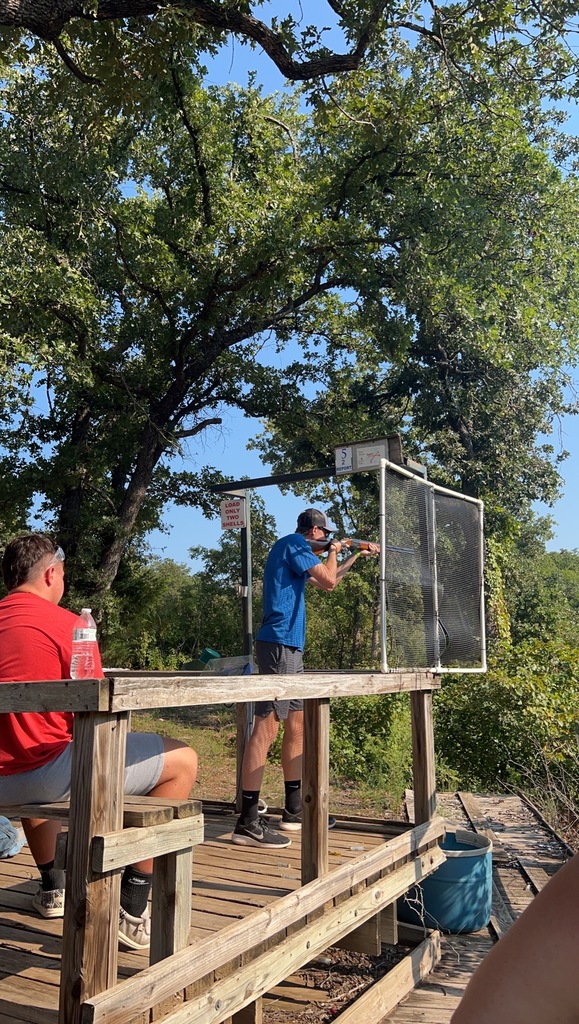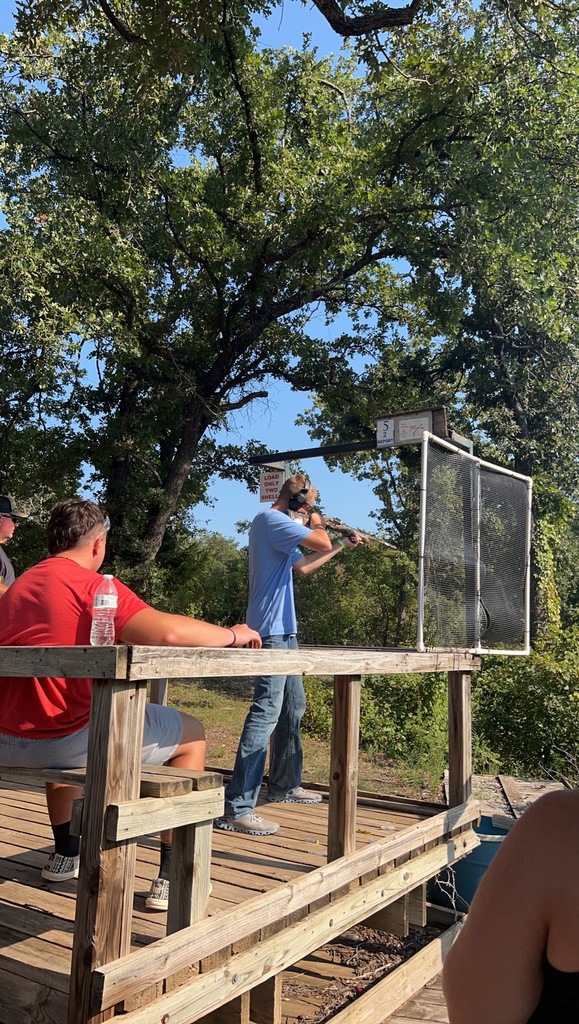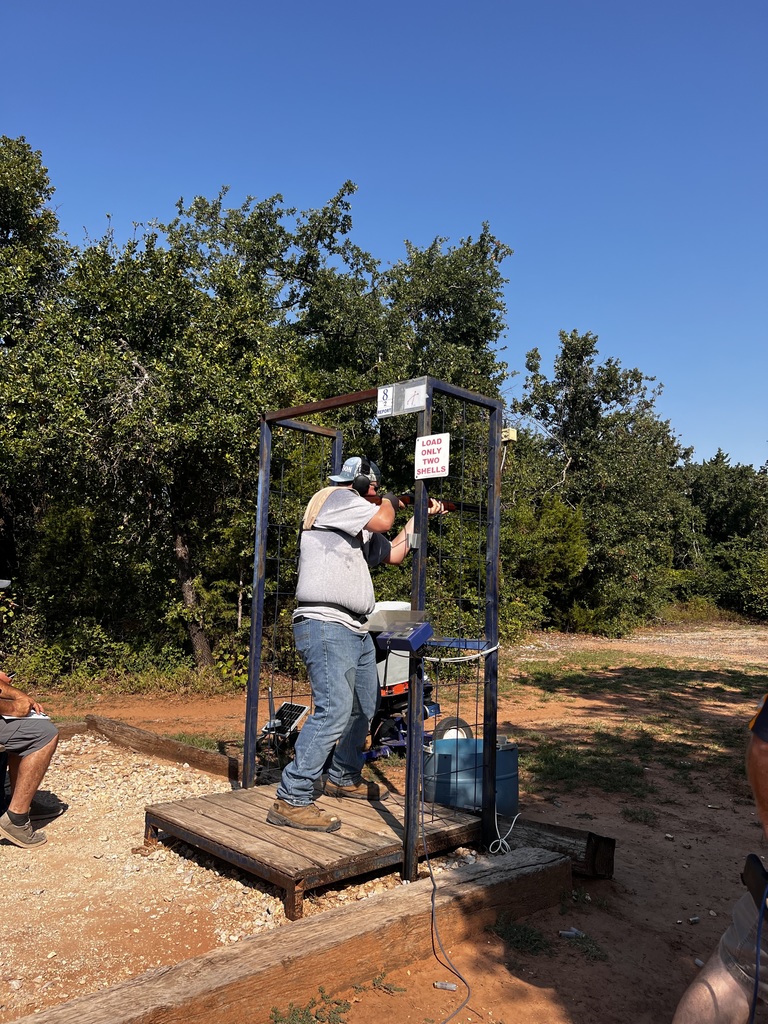 Fourth graders, Abigail Potter and Kerri Prince, worked hard earning bucks in class for participating in and outside the classroom, so they could serve as assistant principals to Mrs. Brannon. They could earn bucks for participating in class discussions, following procedures, being a good classmate, etc. Both of these young ladies work hard in and out of the classroom, have positive attitudes, are responsible, and can be trusted to do the right thing even when no one is watching.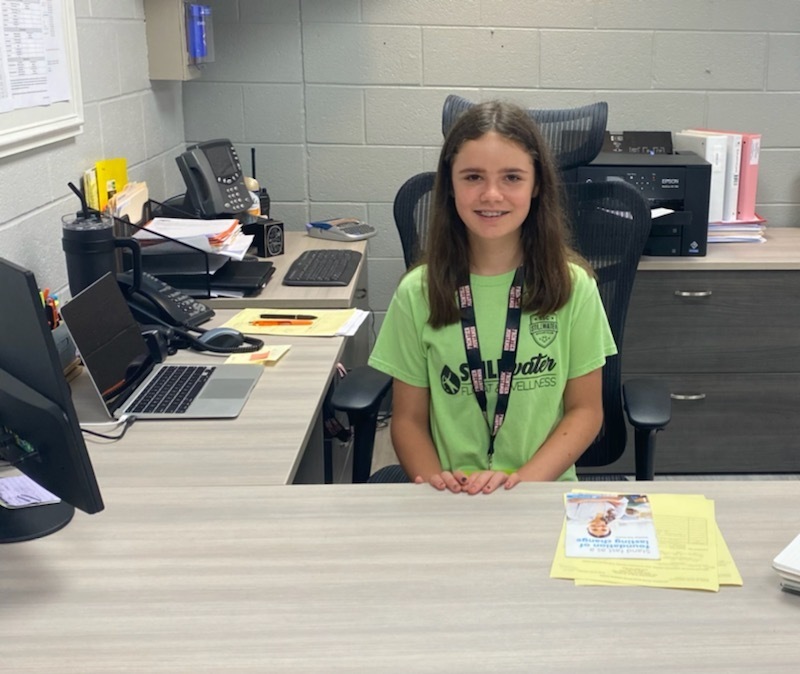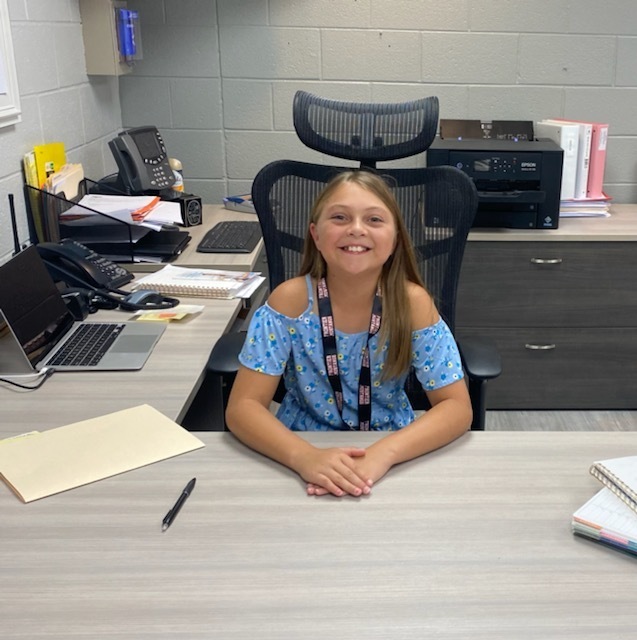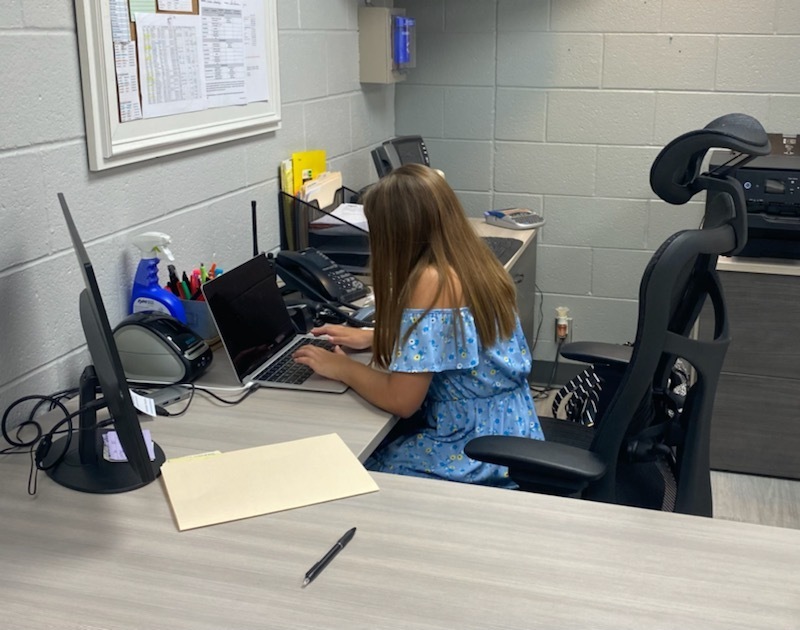 Frontier Schools Indian Education Program and Parent Advisory Committee will be hosting a Community Night on Monday, October 3rd from 6:30pm to 7:30pm. This is an opportunity for parents/guardians of any Native student to complete a 506 Form (if never filled out previously) and turn in copies of CDIB cards or Proof of Citizenship letters. This is important for our school to have an accurate count of our Native student population for funding. Our Parent Advisory Committee meeting will be prior to the Community Night from 5:30pm-6:30pm. Come enjoy pizza and drinks! We look forward to seeing you! #BetterTogether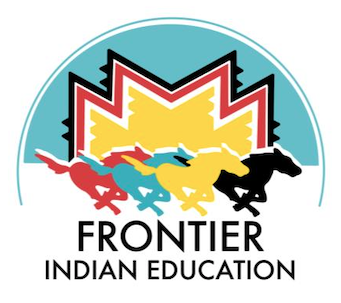 Reminder: There is a community meeting tonight in the cafeteria at 6:30 to discuss the possibility of early release.